25.05.2021
Discontinuation of saniflow® p and aks-decu side
The small-cell mattress support system saniflow® p and the side support system aks-decu side have been withdrawn from the range. They are no longer manufactured.    
01.02.2021
Discontinuation:
The decubiflow® 23 and the decubiflow® 23A are no longer manufactured.    
29.01.2021
Due to delivery problems with a component, saniflow® p are currently not available.
New products
torneo® compact
The compact and manoeuvrable active hoist
With its compact and manoeuvrable construction, the torneo® compact has a maximum load capacity of 150 kg!
A safe and gentle standing up and sitting down of the patient can be optimally supported, even in the tightest of spaces.
In addition, the stand mast and active arm are adjustable in two positions, allowing individual adaption to the patient´s height.  
More information about the manoeuvrable active hoist
aks memoplot RV
Now available: The aks-memoplot with reinforced edge zone
In addition to the high-quality viscoelastic lying surface, the aks-memoplot RV have a reinforced edge zone for stable sitting on the mattress. Thereby the transfer from the edge to the chair/wheelchair is much easier.
The aks-memoplot RV is for decubitus prophylaxis and therapy up to high risk / stage III (in accordance with EPUAP).  
Click for more advantages
aks-duoplot plus/aks-duoplot plus RV
with the growing requirements, we and our products also grow
Due to the individual requirements of everyday nursing care we offer the aks-duoplot with a height of 12cm and now also with a height of 14 cm, as aks-duoplot plus. Both mattresses with and without reinforced edge zone (RV). All qualitative features, advantages and chracteristics of the aks-duoplot and aks-duoplot RV can be also found in the plus version.  
Click for more advantages
08.04.2019  
Our seat cushion aks-viscosit M, L and XL are no longer available.
Instead of them use our seat cushion aks-variosit memo 8/10 with viscoelastic- seat surface. Optionally available with inkoair® or aks-3D air cover.
15.01.2019  
Our alternating pressure mattresses decubiflow® 2000 and decubiflow® 2000 S also decubiflow® 400 und 500 are no longer availabel.
Use our alternating pressure mattresses saniflow® II and saniflow® II S or decubiflow® 23/23A.
Good news  
With aks into the future
To counteract climate change, we installed and commissioned a photovoltaic system on the roof of our aks headquarters in Troisdorf at the end of 2018.
1,286 sqm total area of solar modules generate approx. 196,836 kWh, more than half of which we feed into the grid, thus avoiding 118 tons of CO2 per year, our contribution to more sustainability.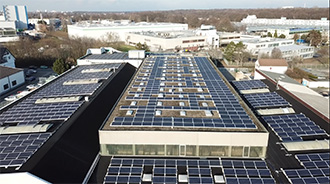 Re-certification according to DIN EN 13485
The products of aks GmbH are characterized by a high standard of quality and service. Patient hoists, care beds and anti-decubitus systems are based on these standards, due to sophisticated process capability, which is anchored systematically throughout the company. Berlin Cert carried out the re-certification according to DIN EN ISO 13485 in September 2018.
With this certification, by an independent body, aks customers can be sure that the quality management system and the development processes of the company continue to meet the high regulatory requirements.
As a manufacturer of medical devices, the company meet the requirements and legal requirements already for 10 years and thus it offers its customers and business partners continuous quality and safety.
The consistent quality management of aks GmbH enables lean processes, more cost and time efficiency, security through transparency, highest product quality as well as quick response to changing situations and continuous development.
Especially for retiring homes and healthcare institutions
aks-curo 4
The new optimized scissors bed for nursing care – in a cozy design, with infusion holder, wall bumper and castors with partially centralized locking on both head and foot side.
decubiflow® 23 und decubiflow® 23 A
The alternating pressure systems decubiflow® 23 und decubiflow® 23A are applicable for decubitus up to stage IV according to EPUAP.
Mattress extension now also available for aks-memoplot!
The mattress extension set consisting of the extension piece 90 x 20 x 14 cm and inkoair® mattress cover 90 x 20 x 14 cm for our viscoelastic soft positioning mattress aks-memoplot is available under order number 04762 from now on.
decubiflow® 23 A – the new alternating pressure – mattress overlay system from aks
This new alternating pressure system has all the product advantages of the proven system decubiflow® 23 and can be applied with a standard mattress or with a minimum 4 cm thick foam layer.
You will find further information on the product page.
saniflow® p – the new alternative for pressure sore prevention with small cells
· Mattress overlay system with small cells for standard treatment
· patient weight from 45 kg up to 125 kg
· with individual pressure setting
· and flow-air®
New: aks-theraplot and aks-viscoplot up to 150 kg
The pressure relieving qualities of these two mattresses have been rechecked with a new test. As a result the maximum patient weight have been increased to 150 kg as the pressure release class H remained the same. The corresponding amendment has been announced in the medical aids register.
The new version of aks-B4 compact with convincing product advantages
Our proven aks-B4 is now available in a new, optimized version:
- the length of the scissors base frame is only 116 cm!
- the scissors is located centrally under the lying surface of a 200 cm mattress
Consequently, in most of the cases nothing can hinder a quick and easy installation!
You can find further information here.
aks-memoplot now up to stage III
Dear customers, we are very pleased to announce that we are able to enhance our foam antidecubitus-mattress aks-memoplot in its range of application, due to complex measurements (carried out by a neutral institute), new risk analysis and extensive market observation during the last months. aks memoplot is now applicable for decubitus therapy up to stage III according to EPUAP. We are confident that you will consequently get more efficient and more economic possibilities for the medical support of your end customers.
Certainly, this reclassifications also applies to your mattresses already purchased.
The Foundation "A heart laughs"



There is no greater joy than a laughing child,
no better sound than a child's laugh.
To enable children to laughing, especially when it just no longer appears possible, is the greatest heart´s desire of this foundation - "A heart laughs".
Filiz, the five year old daughter of the foundation´s founder Kamil Sarisen painted the picture that is our symbol today. In response to the question, What´s the name of the picture? she said, "It's quite clear: A heart laughs!"
The desire and intention of Kamil Sarisen, is to give back to the life that he received so much from. To make more childrens´ hearts laugh!

Personal, direct help
It's all about the children - from the start in the womb until the completion of their education.

"A heart laughs" helps; in personal emergencies - there where church and state are no longer able or willing to help.

"A heart laughs" also supports small and medium social projects, it starts and monitors new projects and promotes existing relevant initiatives.

"A heart laughs" gives real help with money and other gifts as well as supporting self-help.

"A heart laughs" gives to the children in need. "A heart laughs" will publicise it activities regularly.

100% into the project
Each donation to the foundation will be used entirely for the mission of the foundation.
The foundation is the shareholder of aks GmbH and it´s subsidiary aks pura GmbH. You support it with each order given to these two companies.
Thank you for supporting our foundation - "A heart laughs":


aks-viscosit
Antidecubitus-foam seat cushion - with a synergy from viscoelastic foam and foam spring technology
- with breathable 3D cover
- many sizes

aks-beds with patented foot section - electrically adjustable per hand control without nursing

torneo® II - the new active hoist "in action"